Mercedes-Benz Repair & Service in Glendale & Burbank
booking your Mercedes-Benz auto service appointment only takes 1 minute
Fill out this form and our team will be in touch very soon.
Los Angeles Mercedes-Benz Repair Services
Whether you are looking for routine Mercedes Benz maintenance in Los Angeles or you need specific repairs, here at Formula Automotive Group understand the complexities of your Mercedes Benz. Our experienced technicians know what is required to carry quality, full service, including any repairs that may be required.
Mercedes Benz Service Specialist-Brakes and ABS Service
Mercedes Benz vehicles are quality engineered machines that are designed to protect you by providing multiple notifications of any potential problems or maintenance needs, including braking and ABS systems. Like most European vehicles, Mercedes Benz has indicator sensors that warn you when the brake pads are due for service in order to prevent damage to the rotors. To help keep you safe on the Los Angeles roads, our Mercedes Benz service specialist can repair or replace all aspects of your brakes and ABS service.
Preventative Mercedes Benz Maintenance
One of the most important things you can do for your Mercedes Benz is ensure you provide routine maintenance. Whether it is brake, transmission or power steering fluid or engine oil, the engine in your Mercedes Benz is a sophisticated piece of equipment that requires the right fluids at the right times. Our experienced Mercedes Benz service specialist knows what the proper oil, filter and fluids are for your vehicle. Along with providing quality service, our knowledgeable technicians can advise you on any service and maintenance necessary to keep your Mercedes Benz running at its best.
Other Services Provided by our Mercedes Benz repair shop
Our Mercedes Benz repair shop can assist you with all of your repair and service concerns, including:
Air conditioning and heating
Check engine light diagnostics
Electrical system repairs or replacement, including the alternator, battery, starter, coil over plug testing and cables/connections
Alignment
Filters
Suspension and steering
Engine cooling system
Tire pressure monitoring system
Wheels and tires
Transmission repair
Belts & hoses
Glass repair and replacement
Maintaining and repairing Mercedes Benz vehicles is the heart of our business. So, whether your Mercedes Benz is pampered classic that requires seasonal preparations for shows or it is your everyday vehicle, Formula Automotive Group in Glendale and Burbank has the in-depth experience and knowledge to ensure your vehicle gets the highest quality service possible.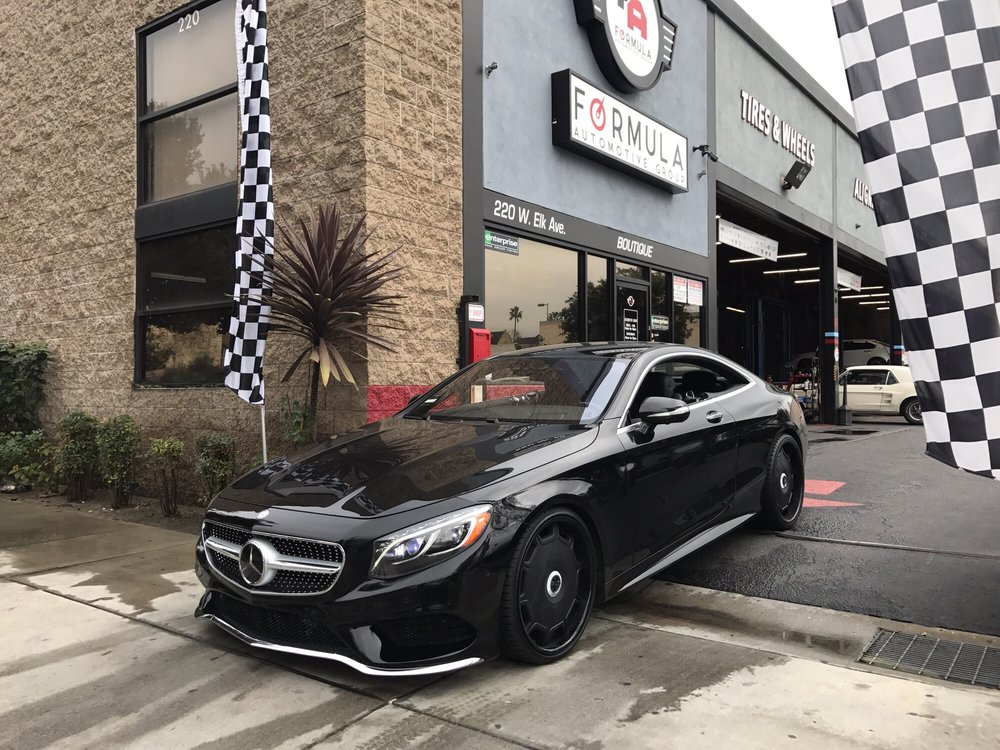 Mercedes Repair Services We Offer
Oil & Filter Changes
Engine Diagnostics
Transmission Repair
Exhaust Systems Repair
Brake Repair (Pads & Rotors)
Belts & Hoses
Axles, CV Joints, & Driveshafts
Differentials and Transfer Cases
Steering & Suspension Systems
Four Wheel Drive Systems
TPMS (Tire Pressure Monitoring System)
Wheel Alignments
Cooling System
Radiator
Climate Control Systems
Electrical Systems
Batteries
Glass Repair & Replacement
Tires
OEM & Aftermarket Wheels
All Preventative Maintenance
and much more
Contact Your Glendale & Burbank Mercedes-Benz Specialists Today