Ferrari Repair & Service in Glendale & Burbank
booking your Ferrari's auto service appointment only takes 1 minute
Fill out this form and our team will be in touch very soon.
Los Angeles Ferrari Specialist
Corroded fuel systems, engine cooling system problems, and worn tires are amongst the most common problems Los Angeles Ferrari drivers experience with their vehicles. While it is disheartening to experience such issues or any others, it is reassuring to know that Formula Automotive Group is just around the corner. We're your trusted Ferrari service specialist, resolving the above issues and many others. When things go wrong with your high-end performance car, the experts at our Ferrari maintenance center vow to make things right.
Ferrari Repair in Burbank & Glendale
We have locations in Burbank and Glendale to better serve your needs. Each of our Ferrari repair shop locations employ certified mechanics who go the extra mile to ensure thorough, efficient repairs of your vehicle. Whether you're the proud owner of a Ferrari Spider or fancy yourself behind the driver's seat of a Portofino, our experts understand your vehicle and how to provide the extra touches that keep it running smoothly. Our experts repair any Ferrari model at our Ferrari maintenance center. We've served the Los Angeles area since 2013, during which time we've earned an exceptional reputation as a Ferrari service specialist who offers top-notch repairs at rock bottom prices.
The Formula You Need for a Smooth-Running Ferrari
Our Ferrari service specialist receives regular training that keeps them up-to-date with the latest technologies and advancements in Ferrari repair. We use the latest tools and specialized equipment after a precise vehicle analysis, ensuring that your vehicle repairs made the right way, the right time around. Nothing is more important than your vehicle providing you with smooth operation at 10,000 miles and at 100,000 miles. We make sure that happens. Our goal is to continue providing the same superior service today that we have since the day that we opened our doors. We want every customer to leave our Ferrari repair shop confident they've received the very best service around.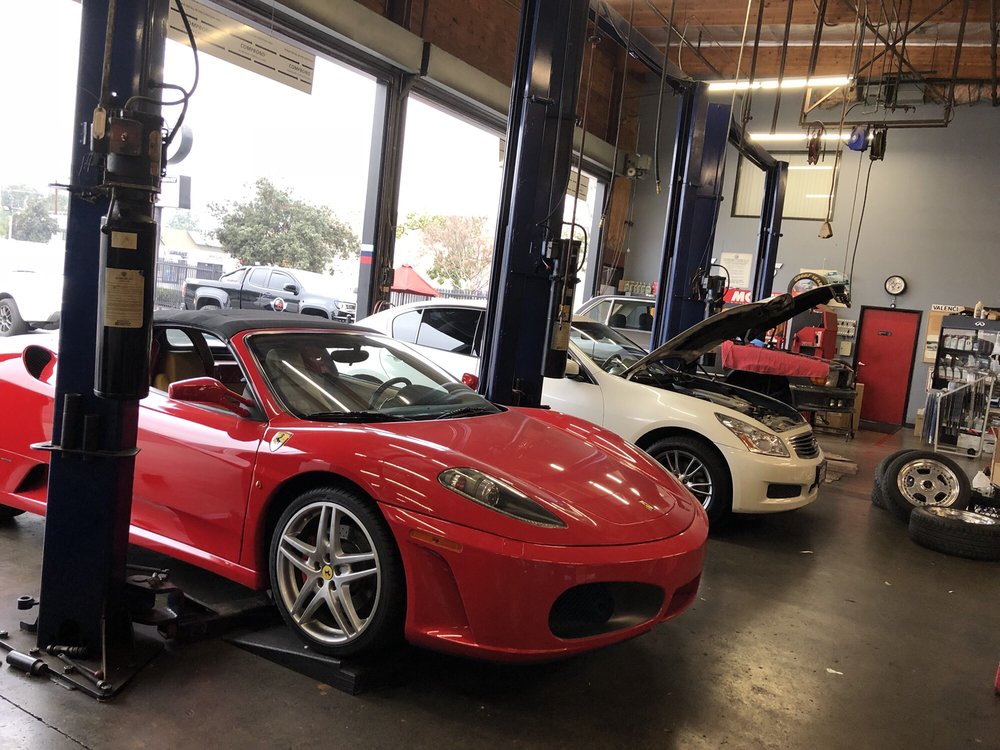 Ferrari Repair Services We Offer
Oil & Filter Changes
Engine Diagnostics
Transmission Repair
Exhaust Systems Repair
Brake Repair (Pads & Rotors)
Belts & Hoses
Axles, CV Joints, & Driveshafts
Differentials and Transfer Cases
Steering & Suspension Systems
Four Wheel Drive Systems
TPMS (Tire Pressure Monitoring System)
Wheel Alignments
Cooling System
Radiator
Climate Control Systems
Electrical Systems
Batteries
Glass Repair & Replacement
Tires
OEM & Aftermarket Wheels
All Preventative Maintenance
and much more
Contact Your Glendale & Burbank Ferrari Specialists Today